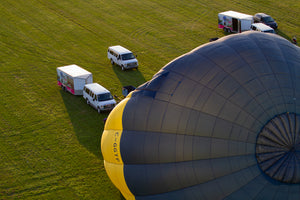 Who We Are
La Magie de l'Air was founded in 2010 in Saint-Jean-sur-Richelieu, on the south shore of Montreal. Since then, our passion for hot air balloons has continued to reach new heights. Our greatest joy? Sharing it with you!

La Magie de l'Air offers adventurers from all walks of life the opportunity to fly with the birds and be carried by the wind over the Quebec landscape in a hot air balloon. We also offer a range of professional services, including balloon maintenance, repair and purchase, and flight school.
9 Fun Facts about La Magie de l'Air
1.

We've acquired 10 navigable balloons.
2. More than 13,000 passengers have let their inner child free by taking flight with us.
3.

Our pilots have flown over Quebec, the United States, France, and the Dominican Republic.
4. We've become an important player in the industry and particularly with festivals across Quebec.
5.

Our hot air balloon repair shop has acquired a reputation in its field.
6.

We've obtained certification from Transport Canada to perform balloon inspections.
7. We've become a respected authority in Quebec on hot air balloons of all brands, shapes, and sizes.
8. We've developed partnerships with businesses (Tourisme Montérégie, Bérard Tremblay arpenteurs-géomètres) and with all the farmers in our beautiful region, whose help has made the dream of flying in a hot air balloon a reality for people near and far.
9. We've collaborated on music videos and TV shows, including the popular science show Génial!
From Humble Beginnings to Great Heights
2010

La Magie de l'Air is created by Éric Hamel, a young, passionate hot air balloon pilot.

April 2012

Two other pilots, Patrick Cloutier and Martin Isabelle, join with him. After a few meetings and discussions, they decide to forge ahead with their dream: sharing their passion for hot air balloons with the people everywhere. They incorporate a company and La Magie de l'Air Inc. is born. The team is joined by Chantal Brodeur and Sonia Bossé.

August 2012

La Magie de l'Air becomes the second-largest hot air balloon company in Quebec. Thanks to its varied expertise in the world of ballooning and its very high fuel-efficiency standards, the company quickly forges a reputation for excellence. The company negotiates the startup challenge of coming together as an organization and meeting with success.

January 2013

Serge Guillette, a pilot since 1993 who shares the team's vision, passion, and dream, joins La Magie de l'Air.

May 2013

La Magie de l'air acquires Eol'Air. With this transaction, the company now holds an enviable position in the balloon tourism industry in Quebec.

The acquisition allows the young company to diversify by adding a marketing component, and a new position in business development is created.
A Passionate Team
While their expertise may be diverse, our team members have at least one thing in common: an undying love of hot air balloons. Get to know our pros!
Our Hot Air Balloons
Without our balloons, of course, we wouldn't be able to offer you the experience of a lifetime: being magically transported by a bubble of warm air to enjoy breathtaking views from the sky. Learn more about the hot air balloons at your disposal.
LEARN MORE ABOUT OUR HOT AIR BALLOONS
Farmers Are Key
The Airplane and the Hot Air Balloon: Worlds Apart
A hot air balloon requires fields for takeoff and landing. Unlike airplanes that take off and land on a designated runway, hot air balloons land wherever the wind takes them.

While airplane pilots can manoeuvre their aircraft as they please, balloon pilots must vary their altitude to find a wind that pushes them in the desired direction. So, while balloon pilots always know where they're taking off from, they rarely know precisely where they're going to land.
To land, the balloon requires a relatively large area with no obstacles that could jeopardize safety (power lines, trees, fences, etc.).

Canadian aviation regulations also prohibit balloons from landing in built-up areas except in emergencies.

Although there are many places where it is possible to land (some you'd never guess!), the ideal location remains a field. It's therefore essential for pilots to maintain good relations with local farmers.

Respecting farmland is a sine qua non of the wonderful sport of ballooning. Balloon pilots and chase crews must thus also be familiar with the various field crops.
The Challenge of Piloting a Hot Air Balloon
Balloon pilots face a big challenge: they must steer the balloon toward a safe place to land while avoiding damage to crops. The best spot is a field of freshly cut and baled hay or any field whose crop has already been harvested.

On landing, the chase crew's mission is to find the owners of the field in question and ask them if they're okay with the balloon landing on their property. If, for some reason, the owners feel that the landing location is inappropriate, the pilot will raise the balloon again and land elsewhere, as long as it's safe to do so.

The pilots and their crews make every effort to avoid damage and inconvenience. To this end, only the official chase crew vehicle is allowed on the field, and instructions or any specific requests from the owners are strictly followed.
Only When Absolutely Necessary
Sometimes despite their best efforts, pilots are forced to land in cultivated fields. In such cases, we do our best to minimize damage to crops and land. However, if damage occurs, the pilots of La Magie de l'Air come to an agreement with the landowners to compensate them for any losses incurred.
If you own a property or a farm on which we occasionally land and have any comments, questions, or suggestions, please don't hesitate to contact us. We'll be happy to discuss things with you.

If you've welcomed us on your land and would like to arrange a hot air balloon ride for yourself, your family, or your employees, it's on the house from us to you as a special thank you (some restrictions apply).

We'd like to thank all the Montérégie farmers for their warm welcome and generosity!
A Word from our Partners
Bérard Tremblay arpenteurs-géomètres
It's a pleasure for us to work with the La Magie de l'Air team. They're warm and professional and take great care of their passengers. As for our pilot, Patrick is generous and extremely passionate about the world of hot air ballooning.

Not only is a balloon flight an incomparable experience thanks to the beauty of our region, the pilot's extensive knowledge makes it enriching as well. Our good name could not be in better hands.

Have a great season!

The Bérard Tremblay Team
Tourisme Montérégie
Tourisme Montérégie is a proud partner of La Magie de l'Air. Montérégie is the national ballooning capital and home to the largest balloon festival in Canada, so it was important for us to have our logo on one of your organization's balloons. Our wonderful partnership with La Magie de l'Air delivers incredible exposure for us many months of the year.

Thank you to La Magie de l'Air, and may we continue to collaborate for years to come.


Mario Leblanc
Executive Director, Tourisme Montérégie