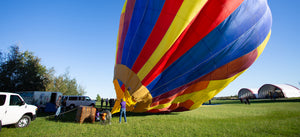 Favourable Flight Conditions
• Light winds on the ground (less than 7 knots [15 km/h])
• No precipitation expected during the flight period
• Condition of landing site acceptable
Best Times for Flying
There are two times of day that are best for balloon flight:
1. Early morning, around 6:00 a.m.
2. End of day, around 6:00 p.m.
Morning Flights
Morning flights are ideal for early risers. At the crack of dawn long before the hustle and bustle of the day begins, watch in wonder as nature awakens in all its beauty and simplicity.
How It Works
1.
Choose your package
2. Select the date and time you want for your flight from the calendar
3. Complete your transaction online
A member of our team will contact you shortly to complete the reservation.
Late Day Flights
Late day flights always take place a few hours before sunset. It's the perfect time to relax after a long, busy day.
How It Works
1.
Choose your package
2. Select the date and time you want for your flight from the calendar
3. Complete your transaction online
A member of our team will contact you shortly to complete the reservation.
4. If the flight is confirmed, we'll provide you with the time and meeting point.
5. If the flight is cancelled, you'll be asked to select a new date or to call us back at another time to do so.
Balloon Flights from A to Z
1. Arrival at meeting point
2. Transportation to takeoff site
3. Flight briefing
4. Setting up and inflating the balloon
5. Takeoff, flight, and landing
6. Packing up the balloon
7. Transportation to meeting point
8. Sparkling wine toast

Allow a minimum of 3 hours from start to finish. Hot air balloon flights take between 45 and 75 minutes depending on wind speed and available landing sites.
Flights Schedulee
Summer Season
Mid-May to end of October

Morning Flights
Weekends only

Late Day Flights
7 nights a week

Flights must take place within 3 hours of sunrise and 3 hours of sunset.
Winter Season
November to early May
Weekends only

Balloons may fly throughout the day.
n the hours leading up to your flight, the La Magie de l'Air team analyzes the weather forecast to make sure conditions are ideal for your flight safety. We then contact you with our decision.

The takeoff location is determined according to wind direction and available landing sites.
We recommend that you wear comfortable clothing that's appropriate for the season.

In summer, opt for pants, flat shoes, or sneakers. You might also want a hat for protection from the heat of the burners.

It's a good idea to wear several layers, especially for morning flights when the sun is still warming up the air.

In winter, a jacket, ski pants, a toque, mittens, and warm boots are the key to a comfortable flight.
There are two ideal flight times: early morning (around 6 a.m.) and late afternoon (around 6 p.m.)
There are a number of sites suitable for inflating hot air balloons. The pilot's choice depends on wind direction and speed.

In winter, however, the snow narrows our options.
The hot air balloon's gondola is very stable for taking photos and videos. However, other than for these purposes, we strongly discourage the use of cellphones on board as they may interfere with communications between the pilot and the chase crew during the flight.
The distance a balloon can fly varies greatly and is closely tied to wind speed. Winds are generally lighter at low altitude and stronger at high altitude. The typical distance covered by a balloon ranges from 5 to 15 kilometres.
The duration of a balloon flight varies greatly, as each experience is unique. The flight from takeoff to landing lasts about an hour—sometimes more, sometimes less. The duration is influenced by wind direction and speed.

In all, you should set aside a minimum of 3 hours for the entire activity, including the post-flight celebration and the ride back to the meeting point.
Hot air balloons fly at a variety of altitudes. As winds vary greatly, the pilot will decide the best altitude for the weather conditions. This means you can glide inches above a corn field or soar 5,000 feet above the ground!
Depending on the season and the altitude of the flight, you might experience a wide range of temperatures. Even at the height of summer, it can get cool or even cold. Conversely, the temperature can rise well above seasonal norms.
Hanging in a gondola under a balloon filled with hot air is a wholly unique experience. It's nothing like standing at the edge of a cliff or on the roof of a skyscraper. There's virtually no discernible wind or noise to disturb the peace of it all.

In our experience, even the most nervous passengers relax almost immediately after takeoff and fully enjoy the experience of their flight.
The wind determines the landing site. The beauty of ballooning is that every flight is unique. At the very end of the flight, the pilot scans the horizon for a field in which to land safely, free of animals or standing crops.

Those who've experienced it will tell you that landing is the most exciting part of the trip, although it may seem to some like the trickiest. The pilot will always tell you what position to take during landing, in compliance with regulations.
Your first hot air balloon flight will leave you feeling a host of emotions. Given that a balloon ride is such a unique experience, it's only fitting to celebrate with a glass of bubbly! This tradition dates back to the earliest days of the hot air balloon, whose inaugural flight was in 1783.
A chase crew follows the balloon throughout the flight and remains in constant contact with the pilot. Its job is to locate and recover the balloon at its landing site. After the customary celebration, our team will be happy to drive you to the original meeting point.
A balloon flight is a fun and original gift idea. Whether it's to celebrate a birthday or a wedding anniversary—or even to pop the big question—a balloon ride will leave your loved ones absolutely awestruck.
LEARN MORE
Absolutely! We understand that unforeseen circumstances can interfere with your plans. The best thing to do in this situation is to notify us as soon as possible so that we can set a new date.

LEARN MORE
It's up to the pilot to decide whether or not the flight will take place. If the weather doesn't lend itself to flying, we'll let you know as soon as possible so that we can settle on another date for the flight, keeping our fingers crossed, of course, for better weather next time.
Strictly speaking, there's no age limit for flying. All you need is a taste for a different kind of adventure and voilà, you're off!

Children are welcome, of course. However, they must be tall enough to see over the side of the gondola, which is about four feet high. We therefore don't recommend bringing children under five on balloon flights.

Have you suffered from or do you suffer from chronic pain (for example, back pain)? Let us know so we can make your flight even more comfortable and enjoyable.
At La Magie de l'Air, your safety is our top priority.

Our pilots are certified by Transport Canada, and our gondolas are padded to make your flight more comfortable and safe on landing.

In addition, statistics provided by the Transportation Safety Board of Canada (TSB) show that hot air balloons are the safest of all aircraft.
This section doesn't currently include any content. Add content to this section using the sidebar.