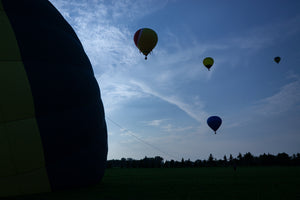 Become a Hot Air Balloon Pilot!
Ever dreamed of flying a hot air balloon? You can, thanks to La Magie de l'Air! Take advantage of our turnkey service. Do you own your own hot air balloon? We can train you on it.
If you've never been near a hot air balloon before, we recommend that you begin your training by joining our chase crew for a few flights to familiarize yourself with hot air balloon rides.

Our hot air balloon pilot training is split into two parts: theory and practice.
Theory
Becoming a pilot requires a variety of technical skills. Our qualified teachers will train you in the following:

• Mapping
• Meteorology
• Aviation regulations
• Transport Canada regulations
• Radio communications on the ground, aviation bodies, and interactions with farmers
• All aspects of ballooning, from preflight preparation to postflight debriefing
• And more
Practice
Time to put your newfound knowledge of hot air ballooning into practice!

• Inflating techniques
• Free flying
• Tethered flights
• Packing up equipment
• Propane training
• Etc.
Depending on whether or not you have your own equipment, the cost of hot air balloon pilot training ranges from $6,000 to $12,000.
Our team holds all the Transport Canada licences required to conduct training. You're in good hands!

Contact us for more information or to register for pilot training!